Here are cue sheets and links to maps for many popular GEARs cycling club rides in the greater Eugene area.
The table below contains links to both cue sheets and maps for each ride. The "Ride No." column is the link to each ride's Cue Sheet. The Name column is a description of the destination and route. We've included Mileage, Grade (A-Easy, B-Harder, C-Hard), Map (the link to the Google Map), Food (BF-Bring Food, FS-Food Store, FR-Restaurant), and Direction to profile each ride.
The Map column contains links to custom Google maps for each ride. Just as you do at Google Maps, you
can use arrow keys to move the map, increase or decrease the zoom level, and the change the type of imagery.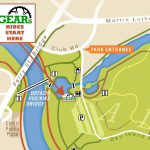 Most of the rides described here begin and end at Alton Baker Park, in Eugene. The general direction category reflects that location.
These rides have been assembled and documented by volunteers Gary Cook, Carlyn Watson, Paula Erickson, Rob Roy and other GEARs members. If you find errors or issues, please let us know and we will work to get them corrected (email: info@eugenegears.org).
Ride No. & Name
Mi.
Grade
Map
Food
Direction
102a
Priceboro Road*
44
A
Map*
FS
N
103a
North Coburg Road & Powerline via Herman*
37
A
Map*
BF/FS
N
103b
North Coburg Road and Powerline via Bowers*
32
A
Map*
BF/FS
N
103c
Coburg Bottom Loop*
26
A
Map*
FS
N
103d
Coburg Bottom Loop to Herman Rd*
33
A
Map*
FS
N
103e
Coburg Bottom Loop to Bowers*
39
A
Map*
FS
N
104a
Harrisburg Long Way Around*
66
A
Map*
FS
N
104b
Harrisburg via Diamond Hill*
47
A
Map*
FS
N
104c
Harrisburg/Junction City Area*
44
A
Map*
FS
N
104d
Harrisburg*
46
A
Map*
FS
N
104e
Harrisburg*
52
A
Map*
BF/FS
N
105a
Brownsville via Marcola/Brush Creek Road*
75
A
Map*
FS
E/NE
106a
Wendling Covered Bridge*
51
B
Map*
FS
E
106b
Wendling Covered Bridge, CCW*
51
B
Map*
FS
E
108a
Brownsville via Gap Rd*
70
A
Map*
FS
E/NE
108b
Brownsville staying mostly West of freeway*
77
C
Map*
BF/FS
N/NE
108c
Brownsville via Willamette Valley Scenic Bikeway*
64
B
Map
BF/FS
N/NE
110a
Marcola*
38
B
Map*
FS
NE
111a
Walterville Breakfast Ride*
42
A
Map*
FS
E
111b
Walterville and McKenzie View
42
B
Map*
BF
E
113a
McKenzie View Drive*
26
B
Map*
BF
E
114a
McKenzie View – Walterville*
42
B
Map
FS
E
114b
McKenzie View with Sunderman*
35
B
Map*
FS
E/NE
114d
Sunderman and McKenzie View*
35
B
Map
FS
NE
114e
McKenzie View, Sunderman, McKenzie View*
39
B
Map
FS
NE
121a
Powerline Road
42
B
Map*
FS
N
122a
McKenzie View Deerhorn*
58
B
Map*
FS
E/NE
122b
McKenzie View Sunderman Deerhorn
68
A
Map*
FS
E/NE
123b
Earnest Covered bridge
44
B
Map*
FS
E/NE
124a
Brownsville-Shedd
79
A
Map*
FS
N/NE
125a
Clearwater Path & Springfield*
25
B
Map*
BF
E
125c
McKenzie View, Sunderman, Clearwater*
39
B
Map*
FS
E
Ride No. & Name
Mi.
Grade
Map
Food
Direction
201b
Junction City*
33
A
Map
FS
N
201c
Junction City via Toftdahl Rd*
42
A
Map
FS
N
202a
Junction City, Monroe, Coburg
57
B
Map
BF/FS
N
205a
Ingram Island Loop*
56
A
Map*
FS/FR
N
207a
Franklin Firehouse*
39
B
Map*
BF
W/NW
207b
Franklin Firehouse via NW Expressway*
36
A
Map
BF
W/NW
207c
Franklin Firehouse via Clear Lake Rd*
36
A
Map*
BF
W/NW
208b
Bison TenYall
15
A
Map
W/NW
209a
Alvadore Road – Short*
30
A
Map
BF
W/NW
209b
Alvadore Road
30
A
Map
BF
W/NW
209c
Alvadore via Meadowview*
34
A
Map
FS
W/NW
210a
Poodle Creek Metric Century*
62
C
Map*
FS
W/SW
211a
Lawrence Road and Short Butler Road*
40
C
Map
BF
W
211c
Lawrence Road and Butler Two Ways*
57
C
Map
BF
W
212a
Cheshire*
53
B
Map*
BF
W
212b
Hills around Cheshire
51
A
Map
BF/FS
W
214a
Sovern Lane*
38
A
Map
BF
N
215a
Meadowview Road*
34
A
Map*
BF
N
215b
Alvadore via Fern Ridge Path*
34
A
Map*
BF
N
216a
Cox Butte Road*
58
B
Map*
BF/FS
N
217a
Gimple Hill via Fern Ridge path Wetlands
30
A
Map
BF
W/SW
218
Town of Crow
38
A
Map
SW
219a
Crow Road via Erickson Road
38
B
Map
BF
SW
221a
Turnbow, Cox Butte and other scenic climbs
58
B
Map
BF/FS
W/NW
223a
Bell Fountain Road
70
C
Map
FS
N/NW
224a
West Hills: Butler Road, Sheffler Road, etc.
65
C
Map
BF
N/NW
226a
Junction City Breakfast ride
26
A
Map
FS
N
227b
Applegate Trail Breakfast ride
37
B
Map
FS
N
227c
Applegate Trail Counter Clockwise*
49
B
Map*
FS
N
228a
E/W Beacon Road
21
A
Map
BF
N
229a
Irving Rd to Fir Butte*
25
A
Map
BF
N
230a
Goldson, Hall & Smyth Rds.*
58
C
Map
BF
N
Ride No. & Name
Mi.
Grade
Map
Food
Direction
300a
Crow (town)*
39
C
Map*
FS
SW
301b
Crow via Central*
38
C
Map*
FS
SW
301c
bRamble Crow Loop*
43
C
Map*
FS
SW
302a
Veneta Breakfast ride
40
B
Map
FR
W/SW
302b
Veneta Breakfast ride from Twin Oaks
31
Map
FS
W/SW
302c
Veneta Breakfast ride via Bolton Hill Rd. add dos
hills.
50
B
Map
FR
W/SW
302d
Veneta Breakfast
45
B
Map
FS
W/SW
302e
Veneta via Bolton Hill Rd*
49
C
Map*
FS
W/SW
304a
NOTI – Poodle Creek
47
C
Map
BF/FS
W/SW
306a
Gimple Hill Road
25
C
Map
BF
W/SW
306b
Gimple Hill via Pine Grove
25
C
Map
BF
W/SW
306c
Gimple Hill Road via Erickson-Crow Roads
30
C
Map
BF
W/SW
306d
Gimple Hill via Pine Grove
25
C
Map
BF
W/SW
306e
Gimple Hill Road via Crow Road
31
C
Map
BF
W/SW
306g
Gimple Hill Road via Pine Grove*
28
C
Map
BF
W/SW
307a
Fox Hollow/Lorane Hwy
30
C
Map
BF
W/SW
307b
Fox Hollow/Down McBeth/Lorane Hwy*
22
C
Map*
BF
W/SW
307c
McBeth Rd – Lorane Hwy – Bailey Hill Rd*
30
C
Map
BF
W/SW
307d
Fox Hollow, Lorane Hwy, Pine Grove Rd*
39
C
Map
BF
W/SW
308a
Wolf Creek from Twin Oaks Elementary
54
C
Map
FS
SW
308b
Wolf Creek (counter clockwise)
96
C
Map
BF/FS
SW
308d
Wolf Creek (counter clockwise) from Twin Oaks
Elementary
87
C
Map
BF/FS
SW
308e
Wolf Creek via Lorane (Town)*
71
C
Map*
FS
SW
310a
Over the Hump, Around the Dump – Dillard Road
Bear Creek
32
C
Map
BF
SE
310b
Over the Hump, Around the Dump – Dillard Road
Cloverdale*
32
C
Map
BF
SE
310c
Over the Hump, Around the Dump – Dillard Access Road
22
C
Map
BF
SE
312a
McBeth Road, Fox Hollow Road, Lorane, Bailey Hill
31
C
Map
BF
SW
313a
McBeth, Fox Hollow*
23
C
Map
BF
SW
314a
Hamm Road via River Drive and Howe Lane
63
C
Map
BF
SE
314b
Hamm Road*
46
C
Map*
FS
SE
314c
Hamm Road via Lorane Hwy*
48
C
Map*
FS
SE
315a
Creswell (town)
34
C
Map
FS
SE
316a
Dillard Access Road
22
C
Map
BF
SE
317a
Pine Grove Road*
28
C
Map*
BF
SW
318a
Doane and Briggs Hills*
37
C
Map
BF
SW
318c
Doane Rd to Briggs Hill Rd*
41
C
Map
BF
SW
319b
Lorane Hwy to Petzold, Out & Back*
35
C
Map*
BF
SW
320a
River Drive and Howe Lane*
41
A
Map*
BF/FS
SE
320b
Howe Ln via Dillard Rd*
41
A
Map
BF/FS
SE
320c
Howe Ln via Dillard Rd, Butte Rd*
37
C
Map
BF/FS
SE
320d
Dillard Rd, Creswell, P. Hill, Clearwater
47
C
Map*
BF/FS
SE
321a
Dale Kuni*
34
A
Map*
BF
SE
322a
Cottage Grove via Lorane
62
C
Map
FS
S
322b
Cottage Grove
74
C
Map
FS
S
322d
Cottage Grove via Dillard Rd*
63
C
Map
FS
S
324a
Bailey Hill Rd Lorane Hwy / FoxHollow Rd
29
C
Map
BF
SW
325a
Bailey Hill / Lorane Hwy / McBeth Rd
22
C
Map
BF
SW
326a
Lorane (town) via Fox Hollow Rd*
49
C
Map*
BF
SW
327b
Breakfast Ride Lorane General Store from Twin Oaks
Elem.
29
C
Map
FS
SW
328a
Noti – Fern Ridge Loop
50
C
Map
BF
W
329a
6 Hills and a Funeral
61
C
Map
BF
SW
330a
4 Hill climb-R-U Ready?
37
B
Map
BF
SW
332
Spirit and Wildwood Falls via Cottage Grove
39/52
C
Map
BF/FS
S
333a
Four Hills #1
41
C
Map
BF
SW
334a
Four Hills #2
35
C
Map
BF
SW
335a
Two Hills – Bike Path
36
C
Map
BF
SW
337a
Veneta via Vaughn, Knight & Warthen*
61
C
Map
FS
SW
Ride No. & Name
Mi.
Grade
Map
Food
Direction
401a
Pleasant Hill via Bear Creek*
45
C
Map*
FS
SE
401b
Pleasant Hill Short Breakfast ride
26
C
Map
FS
SE
401c
Breakfast ride to Pleasant Hill
28
C
Map
FR
SE
401d
Breakfast ride to Pleasant Hill including Wheeler
58
C
Map
FR
SE
401e
Pleasant Hill via Bear Creek*
45
C
Map
FS
SE
401f
Pleasant Hill to Jasper*
39
C
Map
FS
SE
402a
Lowell
52
C
Map
FS
SE
403a
Jasper via Weyerhauser*
35
B
Map
BF/FS
SE
403b
Jasper via Pleasant Hill*
31
B
FS
SE
403b
Jasper via Pleasant Hill – Alternate*
34
B
Map*
FS
SE
403c
Walterville via Thurston Rd to McKenzie View*
42
B
Map*
FS
E
403d
Jasper via 30th Ave, P. Hill*
42
B
Map*
FS
E
404a
Pleasant Hill to Bear Creek*
45
B
Not Yet Available
FS
SE
409b
Winberry Creek Park on Fall Creek Reservoir*
58
B
Map
BF/FS
SE
413a
Deerhorn
48
B
Map
FS
E
414a
Walterville via Thurston Rd*
34
B
Map*
FS
E
415a
Goshen
21
B
Map
BF
E
416a
Rattle Snake Butte
53
C
Map
FS
SE
416b
Rattle Snake Butte via Dexter*
59
C
Map
FS
SE
416c
Rattle Snake Butte via Wheeler Rd*
51
C
Map
FS
SE
417a
Upper Camp Creek Road
28
A
Map
BF
E
Ride No. & Name
Mi.
Grade
Map
Food
Direction
606
Aufderheide Scenic Highway
62
C
Not Yet Available
BF
E
607
Daffodil Ride – from Junction City*
19
B
Map*
BF/FS
N/NW
608
Daffodil Ride – from Eugene*
43
B
Map*
BF/FS
N/NW
609a
Daffodil Ride, sans Daffodils*
54
B
Map
BF/FS
S
610
Meadowview
35
B
Map
BF
NW
611
Noti – Poodle Creek
52
C
Map
BF/FS
W
612
Mohawk Store
35
B
Map
BF/FS
NE
614
Polar Bear Ride
42
C
Map
BF
N
616
Eugene Celebration Parade
68
B
Map
BF/FS
N/NW
617
Harrisburg – 4th of July Parade*
46
A
Map
BF/FS
N/NW
620a
Cinnamon Roll Ride – Short
35
A
Map
BF/FS
N/NW
620b
Cinnamon Roll Ride – Long
42
A
Map
BF/FS
N/NW
650
Roads Around Veneta
35
B
Map
BF/FS
N/NW
4000a
Texas 4000 Escort to Eugene*
37
A
Map*
BF/FS
W
4000b
Texas 4000 Escort to Harrisburg*
53
A
Map*
BF/FS
N/NW