From the UO Cycling Team:
The University of Oregon Cycling Team is now accepting orders for our 2013 team kit. I want to personally apologize for the delay in getting this order started. We struggled through several redesigns before we were confident that the quality of our artwork matched the quality of these materials. Thank you for your patience. We are extremely excited to offer you an entirely new product line, featuring top-quality clothing by Castelli Sportful America and the stellar design work of current team member Scott Warneke and UO Cycling alumnus
McKenzie Sampson
. You will find the current design concepts below. Please know that while the overall concepts will stay the same, the UO licensing process and several pending sponsorships will likely necessitate slight changes in the designs between ordering and production.
Product Options and Pricing
-Team Race Jersey_ _– $109 (Special Pre-Order Price: $99)
-Team Bibshort w/Kiss 3 Pad — $124 (Pre-Order: $109)
-Long-Sleeve _Speed_suit — $190 (Pre-Order: $170)
-Wind Vest (wind proof, water resistant, artwork similar to that of speedsuit) — $99 (Pre-Order: $90)
-Thermal Jacket (four-way stretch, water proof, artwork similar to that of speedsuit) — $164 (Pre-Order: $155)
-Arm Warmer (Lycra, featuring Scott's wood-grain pattern) — $39 (Pre-Order: $34)
-Leg Warmer (Lycra, artwork TBA) — $49 (Pre-Order: $44)
Ordering and Payment:
Your order and payment-in-full must be received no later than WEDNESDAY, NOVEMBER 28TH. This is a firm deadline, which must be respected in order to guarantee the receipt of our order by the start of the 2013 collegiate road race season. You may choose to defer payment for shipping until the product arrives (estimated arrival date: March 1st, 2013). If you would rather simply take care of shipping costs right now, please send either a pre-paid shipping label or additional funds to cover the estimated shipping cost to your home or place of business. Upon arrival of the kits next year, orders lacking adequate payment for shipping will be set aside until additional payment is received.
Please send your payment (CHECK ONLY, payable to "UO Cycling") to the following address:
EMU Club Sports (Cycling)
1222 E 13th
Eugene OR, 97403-1228
You will receive a confirmation email within 48 hours of receipt of payment.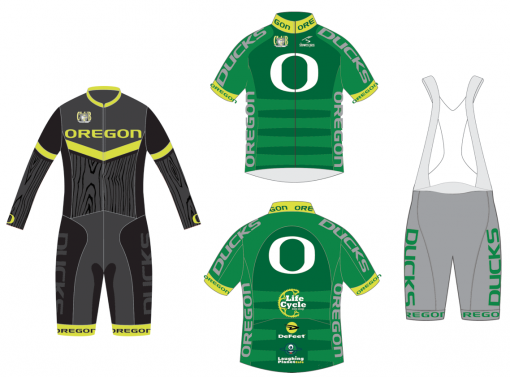 Lastly, feel free to share this information with any friends or family that may be interested. Prices will go up once the order is placed and reserve stock becomes limited in quantity. Many thanks for your support, and happy holidays. Go Ducks!
Dillon Caldwell
University of Oregon Cycling
uocycling.com
caldwell@uoregon.edu
541.771.0177