I am happy to announce that the UO Bike Program's network of self-service bike repair stations is nearing completion! You are cordially invited to join us in celebrating the installation of the final Fix-It Station at 13th and University on Wednesday, November 7th at 12:30pm.
Thanks to the Student Sustainability Fund, the ASUO Over-realized Fund, and Greater Eugene Area Riders, we will have six locations across campus. Students, faculty, and staff can put their bike in a stand and perform minor repairs. Since they are conveniently located at prominent destinations on campus, bicycle commuters will find it easy to pump up their tires in between class or adjust their brakes before riding home. See attached image for a poster displaying the station locations.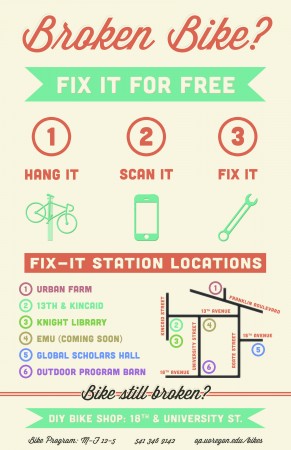 A big THANK YOU to Campus Planning and Campus Operations for putting in many hours to help us site and performing the installation of the Fixit Stations! Also with help from EMU Marketing and the Emerald Media Group, we created 
maintenance videos
that can be accessed via QR codes at the Fix-It Stations.
The Fix-It network is just one more way that we are supporting and promoting bicycling at the University of Oregon. We already received national recognition for our recent efforts. The 
League of American Bicyclists
, a national advocate and lobbying organization for bicycling, published an article the Bike Program contributed to in this issue of their quarterly magazine, 
American Bicyclist
. You can read the 
full magazine online
(we are on pg 26-27).
We have received lots of positive feedback about the stations, and we will continue to look for opportunities to promote these great resources, install more stations around campus, and continue to look for other ways to maintain our leadership as a 
Bike Friendly University
.
Best regards,
Briana
—