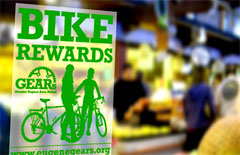 Our Bike Rewards program aims to encourage bicycling and safe practices and to build support for business that will join us in this endeavor. Participating in the Bike Rewards program is simple. As a rider all you have to do is join GEARs. As a participating business, you designate a discount of your choice that you will make available to GEARs members who cycle to your business—you'll recognize them because they'll show you the GEARs Bike Rewards sticker on their bike helmets, however, at bike shops you'll need to show a current GEARs membership card to be entitled to a discount. As members you'll be able to identify bike friendly stores, shops and restaurants – then when you ride there, wearing your helmet, you'll get to take advantage of the special offer a merchant has extended.
Through the Bike Rewards program, we hope to not only encourage GEARs membership, but also to:
keep money in the local economy
decrease carbon emissions and improve air quality
reduce the need for additional oil
promote healthy exercise and fitness
decrease the need for paved parking areas
reduce traffic congestion and wear-and-tear on the roadways
promote loyalty among your happy bicycling customers
provide marketing and publicity to help locally-owned businesses thrive
You'll see the window sticker in a visible location at the entrance to the business.
Join GEARs now and start taking advantage of the Bike Rewards program!
The Bike Rewards program includes most of the bike shops in our area, and has been endorsed by the City of Eugene and the Eugene Chamber of Commerce.
If you have any questions, contact either Richard Hughes at richard@eugenegears.org or Sue Wolling at sue@eugenegears.org
Bike Shops-most offer a 10% discount to our members on parts and accessories.
Other Participating Businesses:
Bike Friday (GEARS members receive 5% off any Bike Friday purchased directly from the Factory in Eugene).
3364 W. 11th Ave.
Eugene, OR 97402
541-687-0487
Center for Appropriate Transportation
50% off cargo bike/trailer rental
455 W 1st Ave., 541-344-1197 cat@catoregon.org