Surface Transportation Program- Urban (STP-U) funds; where we're getting it right and where we might be missing the boat.
On Thursday the Metropolitan Policy Committee (MPC) met at the Eugene Public Library and the main item on the agenda was the STP-U funds allocation for 2011-2013. For more information on the MPC you can visit the Lane Council of Governments (LCOG) website, though it gives no great description of who makes up the MPC or what it does so we'll have to do a separate story on that sometime. According to the LCOG website STP-U funds "are the only revenue source allocated and programmed for eligible projects solely at the discretion of the MPO" (Metropolitan Planning Organization, that is LCOG).  They also state that the "Surface Transportation Program (STP) provides States with flexible funds which may be used for a wide variety of projects on any Federal-aid Highway including highways, bridges on any public road, and transit facilities. Bicycle and pedestrian improvements may also be eligible activities under the STP." The funds have to be met by a local match (minimum 10.27%) . These applications next move to the Citizen Advisory Committee for comments (they are meeting on March 18th 5:30 p.m. at the Eugene Public Library) then it goes back to the MPC for final approval on April 8th (11:30 a.m. at the Eugene Public Library). If you'd like to see the complete packet of applications see this PDF file from the LCOG site. You can submit comments until April 5th at the contact information at the bottom of this post.
So what are some of the projects for the upcoming cycle and are we using these 'flexible funds' to their highest potential? You can see the list of projects and how they meet "Regional Priority Criteria" on this PDF. We'll do a breakdown of the projects here (based on the jurisdiction) and look at where they make some great strides for active transportation and where we might be missing the mark.
Lane County:
30th Avenue (Preservation project): This pavement preservation project application states that the pavement overlay will improve potholes and ruts to "improve safety for bicyclists."  For this to be a project with major improvements for cyclists and pedestrians it would need to look at creating a grade separated path for cyclists and pedestrians to keep them safer and more comfortable from the 55 mph motor vehicle traffic or some other similar project. As it stands it may be an important project but calling a straightforward repaving project an improvement for cyclists is a bit of a stretch.
Hyacinth (Sidewalk)- This has the potential to be a really great project and is exactly the type of project these STP-U funds should be focused on. It will install a 6ft. sidewalk on the west side of Hyacinth (which is the side that Irving Elementary is on) and create a 10ft. wide multi-use path in front of the school.  The application also notes that the sidewalk installation will "provide the reason for initiating a pavement striping process that will look into the opportunity to provide dedicated bike lanes on Hyacinth Street." Installing sidewalks so kids can safely walk to school and potentially adding bike lanes so that it is safer and easier to choose cycling is a great use of these funds.
One question to ask regarding the Lane County application: what happened to Beaver/Hunsaker? This summer, the City of Eugene is planning to do a major addition to the West Bank River path, extending it under Beltline and connecting to Beaver St. However, once that is complete it will simply dump cyclists, skaters, walkers, and others onto a road with no sidewalks, bike lanes or any safe place to walk/ride excepting a narrow shoulder. This important connection for the Santa Clara neighborhood to the whole river path system needs to be included into the active transportation system. We NEED a "Complete Street" on Beaver/Hunsaker and why the county left this important project off the table is still not totally clear. Concerns about the Beltline project and the potential for a major change in that area could be one reason but the work on that project does not seem to be pointing to anything that would mean Beaver/Hunsaker shouldn't be brought up to urban standards now.
Springfield: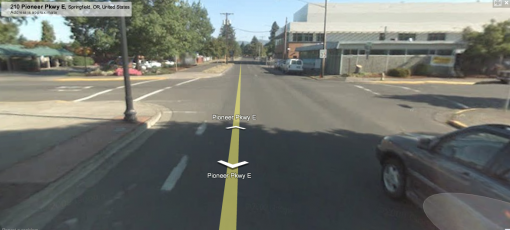 "A" Street (Preservation/Pedestrian enhancement)- This project has some potential for some improvements for cyclists and pedestrians but it would be good to hear from the Springfield biking community to hear about ways to improve it or other projects that might be better suited to improving active transportation there.  This project is looking at repaving "A" street between 5th and Mill and Mill between Main & B.  It will include "pedestrian-scale lighting"and will "improve pedestrian accessibility to the Pioneer Parkway Multi-use Path and the LTD EmX system…" It's a little unclear how it will improve access but one idea to throw out there is the possibility to create a good transition from the bike lane on Pioneer Parkway East to the multi-use path similar to the new Roosevelt colored bike lane project the City of Eugene installed.
South Bank Path Extension (modernization/construction)-  This is a great active transportation project.  It will connect the future 1,100 feet of south bank path/viaduct that ODOT will construct in 2012 (a $2.4 million project) with the signalized crossing at Franklin Blvd./Glenwood Blvd. and will set it up for future riverfront and street system improvements. Currently, riding through this area is difficult and dangerous especially for Westbound cyclists who currently must cross four lanes of fast moving traffic (plus a center turn lane) to get to a path on the south side of Franklin to get to the river path system. This south bank extension would bring that crossing to the signal making it shorter, safer, easier and more comfortable for cyclists and pedestrians to move in this area.
Eugene Projects:
MLK Blvd. (Preservation & Bicycle/Pedestrian Treatments).  Though on the surface this could just be another "pavement preservation project" it has the potential to make some great improvement for active transportation. The application for reconstruction of this corridor (from  I-5 to Centennial loop) calls for the city to "evaluate a redesign of the street to allow the addition of on-street bicycle lanes and at least three new designated pedestrian crossing opportunities" and the potential to do a "road diet" that could "reduce the vehicular through lanes from two in each direction to one in each direction with opportunities to revert back to additional motorized capacity during UO football games…".   If this $1.7 million project becomes part of the STP-U funds there are many improvements that could be made for cyclists and pedestrians to this corridor beyond the symbolic (and welcome) $100,000 specific funding for bike/ped improvements that are labeled "as yet to be determined". The capacity and need for great bicycle and pedestrian infrastructure is even greater on "game days" when thousand of people are walking and biking in this corridor but everyday travel for the many students living on the north side of MLK wanting to reach the University, families trying to get from the affordable housing across the barrier of MLK to the river path system, and many others would benefit from improvements here. The current "wide sidewalks" that are labeled as paths on our bicycle/pedestrian map could be turned into an even better path/cycletrack system to get people safely and efficiently through this corridor, intersections could be made safer, and all the while improving the streetscape and general traffic flow for people driving through it.  The City of Eugene has the potential to either continue with the status-quo here or to create a real 'active transportation' link in the system.
Coburg road (Preservation & Bike/Ped Improvements)  Another great potential project.  Though not a piece of the currently 'broken link' of the active transportation system, making improvements here could improve accessibility and safety for cyclists and pedestrians.  It's a bit like putting a bow on a fruitcake to make it seem like a nice gift but it's better than someone forgetting your birthday all together… I guess. The application calls for accessible Pedestrian Devices and visual countdown signals, Green colorant in bike lanes with potential conflicts with motorists, increasing bike lane width to 6′ or adding buffered bike lanes where possible, ADA ramps and the "likely use of bicycle wayfinding signage."  The project is looking at the area "south of on-ramp to Beltline south to 850ft north of Cal Young" and it  also has the symbolic (and welcome) $100,000 for bike/ped improvements and these are labeled to be "identified through a study." There are a few schools (Sheldon High, Monroe Middle, and Meadowlark/Buena Vista), many businesses, and lot's of residences in the area that people could access easier with improved facilities for cyclists and pedestrians in this corridor but it is still unclear how the City will make those improvements with this $717,840 of preservation and "safety and mobility improvements".
—
If we aren't going to be spending the STP-U funds on projects that need to be done to help to complete our active transportation network then at the very least we should make the projects that are funded better by putting active transportation improvements as the number one priority on them.  So what are the kind of projects that these flexible STP-U funds should be applied to? We can look at where the missing links are to get a good idea:
Link the Amazon Path with the River Path via a path/cycletrack down High street
Complete one of the most used bike corridors of Alder Street by taking it all the way north to the River Path via a cycletrack or other inviting infrastructure improvement
Connect the Fern Ridge Path to the Amazon/High Path via a full Bike Boulevard on 15th including priority crossings
Complete the current Bike Boulevard "lights" to full fledged Bike Boulevards with diversion, traffic calming, bike-thru way access, wayfinding, and big clear pavement markings (Monroe/Friendly, 12th, 15th, Alder, etc.)
Only through creating a transportation network that makes it as easy to walk and bike as we now make it to drive are we going to get people making the choice to get healthy and active as they move about our community.
Two items not discussed in this post are the LTD and Safe Routes to School (SRTS) funds that are part of the STP-U applications.  These obviously important funds have a great impact on increasing bicycle and pedestrian use and decreasing single-occupancy vehicle use through "transportation options/transportation demand management". These funds are seen as a separate pool than "Project Development, Preservation, and Modernization (PPM)" activities and are currently funded at or above the recommended amount by the MPO. When taken together LTD service, SRTS, Transportation Options (point2point Solutions), and general bicycle and pedestrian improvements ($200k MLK & Coburg, $388k Hyacinth, $200k South Bank Path, & $50k "A" st.) make up 43% of the STP-U funds.  The other 57% is for planning (22%) and "roadway preservation" (35%) and spent wisely that 35% for roadway preservation could also make a positive impact for cyclists and pedestrians.  Still some ground to cover but overall not a bad start in turning around the allocation of some of our local transportation dollars.
Contact for comments:
Metropolitan Policy Committee
Lane Council of Governments
859 Willamette, Suite 500
Eugene, OR  97401
email  mpo@lcog.org<mailto:mpo@lcog.org>

Please contact Paul Thompson at 541-682-4405 if you have any questions or comments.