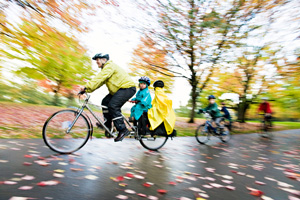 GEARs, the Greater Eugene Area Riders, partners with the City of Eugene, Lane County Municipal Court and Eugene Springfield Safe Routes to School to offer classes for all bike riders from beginner to advanced. You'll learn how to bicycle effectively and safely as a vehicle on the road.
"As bicyclists in the Eugene area, riders need to know how to go safely and responsibly—the same as the drivers of other vehicles. When we do, we can have confidence sharing the road." says Paul Adkins, one of several League Certified Instructors in the Eugene Area.
The classes follow the curriculum of the League of American Bicyclists and include training on how to ride safely and legally in traffic or on paths. Skills like emergency safety maneuvers to avoid crashes, traffic skills, and the laws governing bicycle riding are covered along with commute planning and basic bike mechanics.
Confident Cycling Classes
The schedule for classes will be simple. We hold a Safe Cycling class each month on the second Saturday from 9am to Noon. The extended Traffic Skills class will be offered in May and September – also on the second Saturday, but from 9am to 6pm. The classes will be held at the Whiteaker Community Center unless otherwise notified. Registration is required.

 so that we can keep you up-to-date with details.
Safe Cycling
This 3-hour class guides cyclists in the laws and rules of the road as well as informs on the most common crash scenarios. The course covers Oregon state laws as they pertain to bike riders, crash avoidance techniques and includes a student manual. Adults and children above age twelve are perfect for this packed, three-hour course. This curriculum is provided by the League of American Bicyclists and meets the City of Eugene's Municipal Court requirements for bike traffic citation diversion. This class has a $20 fee*.

Traffic Skills
This class informs and covers the skills and techniques to give riders the confidence they need to ride safely and legally in traffic and on the trails. The course covers bicycle safety checks, fixing a flat, on-bike riding skills and crash avoidance techniques and includes a student manual. Recommended for adults and children above age twelve, this fast-paced, nine-hour course prepares cyclists for a full understanding of vehicular cycling and is a great resource for cyclists from beginning to experienced. A safe bike and helmet are needed in this class. Certification, League of American Bicyclists' Road 1, is achieved upon the successful completion of this course. This class has a $40 fee*.

Traffic Skills for Families
Designed for parents & kids, this 3-hour class will guide bike riders in law, skills and technique to build awareness and confidence for riding on the streets. Topics covered include: how to perform a bicycle safety check, helmet fitting, bike sizing and basic traffic skills to be safe on your bike. Students may be divided into two groups, grades K-5 and 6-9 if needed. This is a 3 hour class in 1 part. Cost is just $5.
To register for any classes, see the schedule above.
* Safe Cycling and Traffic Skills have a $20 and $40 fee respectively that pays the instructor and for materials. Family classes have a $5 fee. The classes support the mission of GEARs Education.
Photo by: Jayce Giddens