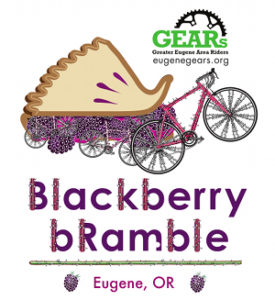 GEARs cycling club would like to invite you to join us for our 19th annual Blackberry bRamble ride. The Blackberry bRamble, a celebration of cycling in beautiful Lane County, returns to Amazon Park on August 6th, 2017. The Blackberry bRamble has long been known for its scenic routes, extraordinary food at the rest stops, reliable support, and free blackberry pie and ice cream at the finish (and a free local craft beer from Claim 52 for the 21 years & up folks!). Proceeds from the bRamble go to help support local causes such as Safe Routes to School, Eugene Adaptive Recreation, Center for Appropriate Transport and Crow Elementary School.
2016 Blackberry bRamble Photos.
Volunteering and Sponsoring – The Blackberry bRamble wouldn't be possible with out our great volunteers and sponsors. If you're interested in giving your time or a donation, click here. And thanks.
Choose Your Route
Online registration closes at 10:00 pm, Saturday, August 5th.
Don't worry, you can sign up at the event. Cash, checks and credit cards will all be accepted.
Registration is limited to the first 600 riders.
bRamble 100, 62 and 40 mile rides
Early registration (thru July 30th) $45.00
Late Registration (after July 30th) $55.00
Onsite Registration (August 6th) $65.00
bRamble 10 and 20 Mile Community Ride
Early registration (thru July 30th) $8.00
Late Registration (after July 30th) $10.00
Onsite Registration (August 6th) $12.00
Group Discounts – Groups of 5 or more riders can get a discount of 10% per rider. Contact davewalla@eugenegears.org for a discount code.
Refund Policy – Full refunds will be given for cancellations until July 15, 2017. Half the registration fee will be refunded for cancelations from July 15, 2017 thru July 31, 2017. There will be no refunds given after July 31, 2017, except in exceptional circumstances.
All routes will close at 4:00 p.m. Beer, Blackberry Pie and Ice Cream will be available until 4:15 pm.
Blackberry bRamble Post-Ride Celebration
Whether you've chosen the 100 mile Wolf Creek Century, the 62 mile Poodle Creek Metric Century, the 40

mile Orchard Point Loop or the 10/20 mile community ride you'll arrive back at the Hilyard Center where you'll find a bike celebration in progress, and of course, your free pie and ice cream reward (and beer!). Local vendors, with great food, community booths, children's crafts and the Claim 52 Beer Garden for the adults will all be part of the celebration.
Directions to the Ride
The ride starts at the Hilyard Community Center, 2580 Hilyard Street, Eugene
.
If you are driving, you can park at the LTD park and ride lot at Amazon Parkway and E 29th St. If you are coming from out of town on Interstate 5, take the E. 30th Avenue exit (Lane Community College), then drive west on E. 30th Avenue to Hilyard Street (approximately 3 miles). Continue thru the light at Hilyard and take a right at the next light to enter the parking lot. There will be volunteers to greet and direct you.
---
The Blackberry bRamble is presented with special thanks to our Sponsors and Partners.